From violent confrontation arise beauty. Two weapons, when confronted, become a kind of winged animal. The bad turns into something positive. The violent, into beautiful. Metaphor of the very idea of ​​creation in these uncertain times, in times of pandemic, war and crisis, where there is still some room for hope.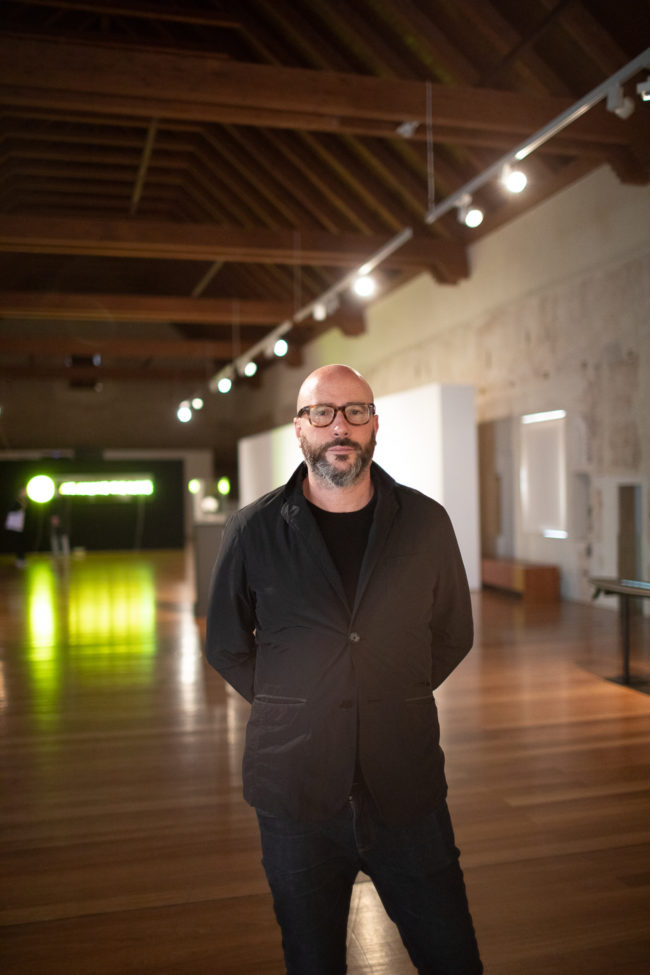 Avelino Sala (Gijón 1972) Licenciado en Critical Art Practice por la Brighton and Hove University, Sala es artista, comisario (a veces) y editor de la revista Sublime.
His work as an artist has led him to question cultural and social reality from a late romantic perspective with a critical point of view. By continually exploring social imagery, Sala tries to point out the sore spots, demonstrating the power of art as a space for experimentation and for the creation of new worlds. Sala is a Spanish referent of art as a vehicle of political resistance, in his production there is a kind of poetry that contains a reflection on the powers of the State and the control they exercise. Its recognizable aesthetic reinforces a discourse that is as necessary as it is powerful, covering sensitive and relevant issues such as migration, contemporary dislocation, the environmental crisis, and the paradoxes of capitalism.
Sala works in the global context of contemporary art, exhibiting and participating in biennials in Caracas, Tel Aviv, Istanbul, Bienal Sur or the Cuenca Biennial in Ecuador, among others. His work has been shown locally and internationally in spaces such as the Abrons Arts Center, New York; Museum of Fine Arts of Asturias; National Center for Contemporary Art, NCCA, Moscow; Slaughterhouse, Madrid; among many others.
In 2007 he was awarded by UNESCO and the New York Foundation for the Arts with the Artport International Video Award in Basel (Switzerland) and in 2010 with the VAD Prize, Girona Video Art Festival. He was also a fellow at the Royal Academy of Spain in Rome and in 2012 at the Le Lait Art Center in Albi, France, at Residency Unlimited in New York, among other spaces, he was also awarded the Vegap scholarship in 2021.
His work can be found in collections such as:
Colección de arte contemporáneo de la Comunidad de Madrid, Centro de arte dos de mayo (CA2M), Collection 21c Museum, Colección ARTIUM de Vitoria , Colección Es Baluard de Palma, Colección Centro Niemeyer, Russian National Center Contemporary Art, NCCA Nueva Colección Pilar Citoler, Colección Maria Cristina Masaveu, Academia de España en Roma, Ministerio de Cultura de España, Colección Testimonio, CajaMadrid, Bilbao Arte Fundazioa.