Juan Francisco Casas, "Three sketches on postmodern morality", 2022. Paraphrasing Zygmunt Bauman's title "Two sketches on postmodern morality", in these 3 digital sketches, the liquid, traditionally in art an iconographic metaphor of Eros, in postmodernity is refers to the moral and personal process through which the individual has to go through in order to integrate into an increasingly global society, but without a fixed identity, and yes malleable, fickle. Within the liquid, identity has to be constructed through survival masks, masks of pure fluid, however, this elusive identity construct makes us more dependent on the other, and that is where hope is found, even from the mere aesthetic hedonism so typical of art, of creating conditions for growth in terms of human collectivity, the individual good from the common. "Three sketches on postmodern morality" reaches the ethereal and malleable liquid that is the global and the digital, but starting from the fluid, real and tangible of the most hedonistic, individual and autobiographical postmodernity.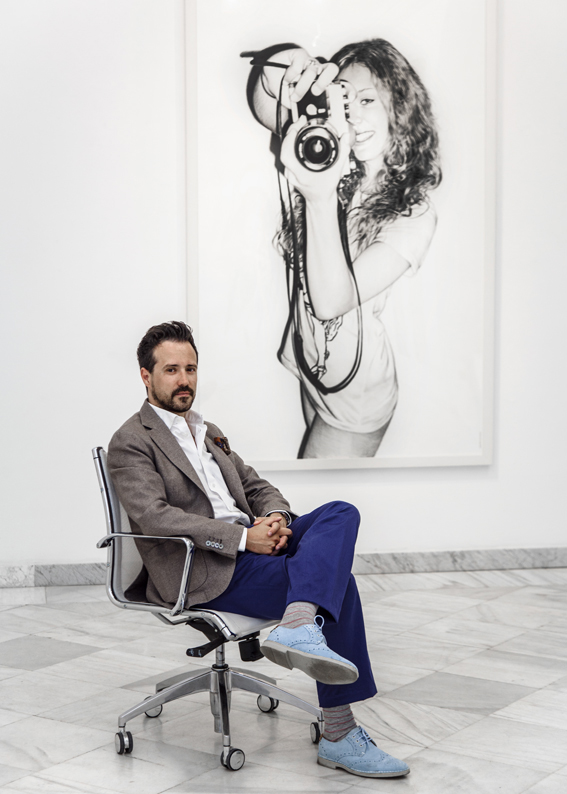 Juan Francisco Casas (La Carolina, 1976)
National Final Degree Award for the best university transcript in Spain, he has exhibited at the Kunsthalle Munich, Kunsthalle in Emden (Germany), Kunsthall Rotterdam (The Netherlands), Cube Museum Seongnam (South Korea), ARTIUM Museum in Vitoria and the Da2 Museum in Salamanca (Spain) and at the National Museum of Fine Arts of Québec (Canada) within the Québec Biennial. He represented Spain at the Prague Biennale and received the Scholarship from the Royal Academy of Spain in Rome, the ABC Prize for Painting and the Scholarship from the College of Spain in Paris. He has published three books of poetry and has curated several exhibitions. His work is in the ARTIUM Museum, Vitoria; ABC Museum, Madrid; Museum of Forbidden Art, Barcelona; Collection of the Ministry of Foreign Affairs; Collection of the Royal Academy of Spain in Rome; Absolut Art Collection; OBEY Collection, Los Angeles; Pilar Citoler Collection, among many others.